We Are Endo Warriors,
Too!
Emma's Story

                         

Co-founder
Despite struggling with textbook symptoms of endometriosis and adenomyosis since the age of 12, I was shocked to receive a diagnosis in 2018. After waking up from my second emergent laparoscopic surgery for extreme pelvic pain, I was told the surgeon had removed as much of the disease as possible and my quality of life would improve as a result. 
My life shifted dramatically after this because the endometriosis was not removed thoroughly.
In the 7 months that followed my diagnosis and second laparoscopy, everything around me began to crumble. At 19 years old, endometriosis forced me to drop out of university and become acquainted with opioids, ER bureaucracy and physicians with limited education. I spent 99% of my time in my bed or a hospital bed because my body was deteriorating more and more everyday. 
After three months of receiving intense palliative care, I had lost over 30 lbs, was dependent on opioids and had experienced more psychosis and withdrawal episodes than I would like to remember. I was defeated with fighting for answers and treatment for my pain. It felt like I was battling for a life that I couldn't live anyways. I felt like the universe had betrayed me; what did I do to deserve a life filled with excruciating pain?
Thankfully, after months of this vicious cycle, my family banned together and sent me to Atlanta, Georgia. I was scheduled to receive excision surgery from Doctor Ken Sinervo, a world-renowned endometriosis specialist. Waking up from my third surgery, I finally experienced relief. In particular, the sciatic pain that I experienced 24/7 throughout my back, hips and legs was gone. 
If I had stayed in Canada for treatment, I would've had to wait until September 2019 (a whole year) for an initial consultation with a gynaecologist at BC Women's Hospital. Despite an emergent referral, our system is simply over-taxed when it comes to endometriosis and gynaecology. Personally, I was not physically or mentally able to wait this long. In many ways, that was a blessing because of the kindness and quality of care that I ultimately received from Doctor Sinervo and his amazing team.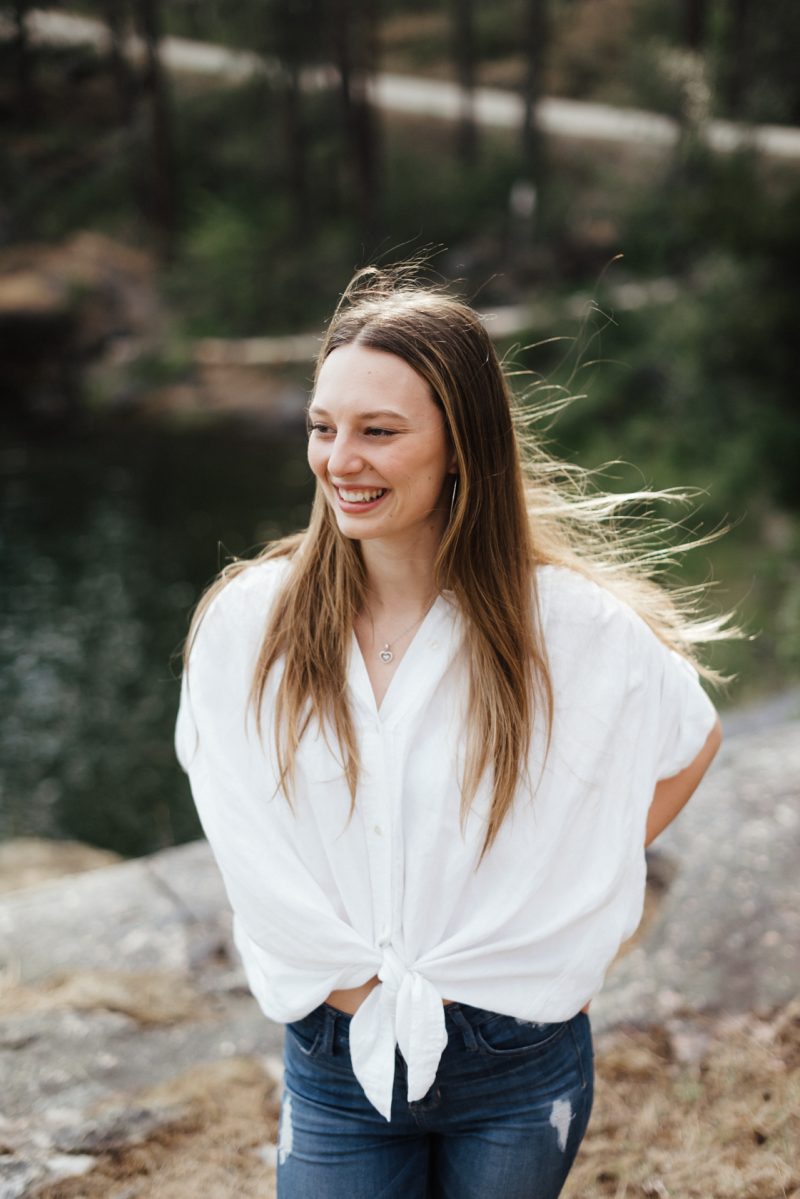 January 2021 marks my second year of remission from excision surgery; 2 years of rigorous recovery, treatments, and education. Although I continue to experience many negative symptoms due to extensive deterioration of my body, I can not believe the drastic shift I have experienced in my health journey since that day. Adenomyosis, vulvodynia, abnormal ovarian cysts, ovarian torsion, vitamin and mineral deficiencies, overgrowth of scar tissue, pelvic floor dysfunction, PTSD, depression, and anxiety are still present, but my energy and ability to properly manage these symptoms are slowly increasing.
My journey to diagnosis and excision surgery is considered rare and lucky within Canada. This is due to an extensive delay to diagnosis and in-accessibility to proper thorough excision surgery that most patients experience in Canada. These detrimental issues should not be accepted or considered normal any longer; this is why I chose to create the EEOC. My narrative should not be rare, it should be common to be heard, supported and treated appropriately at a young age. It should be possible to access a diagnosis and proper treatment (excision surgery) when symptoms begin to develop. Canadian patients deserve better, I deserved better, and the EEOC will work to create an improved society that listens, supports, and works for endometriosis patients.
I will not allow this to continue.
Deborah's Story

                         

Co-founder
Our journey is all too ordinary and has continued to be told by too many individuals in Canada. I hope that our journey of heartache from a lack of education and compassion surrounding endometriosis should be rare, not normal.
It took watching my daughter losing 30 lbs in two months, no longer being able to walk or shower on her own, and being unable to eat, to realize that her life was literally slipping away. My husband and I knew we needed to do more than what was offered to us in Canada to save our daughter. As her parents, we knew our role was to protect her and help in any way that we could, so I dove into researching endometriosis. I read everything I could get my hands on for four months straight, trying to find reasoning and options for her pain. The only thing I could do for my daughter was to find an alternative path that allowed her to survive this disease.
What struck me during my research was the inaccessibility of vetted medical information, research, and reports; this realization disturbed me as endometriosis is a disease that affects so many. I learned soon that this issue surrounding information is also the issue our practitioners and health community experience. This made apparent why our practitioners in Canada had no idea what the disease even was. Endometriosis was as much of a mystery to them as it was to us. Unfortunately, it was even more mysterious how to effectively treat endometriosis. Finally, I came across Nancy's Nook and for the first time I felt hopeful. I felt empowered that we had found an option (excision surgery by a highly trained specialist) that would truly improve Emma's quality of life.
As I did my research, I quickly reflected upon my own experiences with many similar symptoms that were gaslighted; I was a classic case but was never listened to. Multiple miscarriages, infertility, painful menstruation, IBS, chronic bladder pain, chronic bowel pain, anemia, and auto-immune disorders were just a small list of my symptoms that I had normalized throughout my lifetime. Alongside a family history of painful menstruation, fibroids, PCOS, abnormal ovarian cysts etc. it was clear that I had also been dealing with this disease; however, I was always told that nothing was wrong with me, despite my self-advocacy and obvious discomfort. The only diagnosis of note that I received was adenomyosis and possible endometriosis; this was during an exploratory surgery in my 30's to explain the infertility I was experiencing. It seems ridiculous to me that I only received exploratory surgery in my 30's when addressing fertility concerns, after 10+ previous years of advocacy, pain and issues. Despite this diagnosis, I still wanted to expand my family, so a hysterectomy (the only offered treatment) was not possible. As such, I explored alternative routes for pain relief to function daily and have continued to try and manage my symptoms in this manner to this day.
All in all, I learned from my daughter's experience that endometriosis is a real disease, which can cause many different symptoms. Emma experienced symptoms to an extreme extent becoming completely debilitated at such a young age. I remember telling her to just take Advil & Tramadol for menstrual pain when she complained at a young age. As if it really was that easy to just carry on; finally, I understood.
I chose to start this organization alongside Emma to give her an avenue to heal; I wanted her to be able to focus on something that hadn't been robbed from her. I wanted to give her something that endometriosis couldn't snatch from us or her, wherein she could stimulate change and help others.
Individuals with endometriosis need adequate, appropriate and safe treatment for endometriosis in Canada. We need thorough and effective excision that allows people to regain their quality of life, their dreams and stop living a life consumed with the symptoms and negative effects of endometriosis.
We need change, and it's my passion to learn and help create that change for Endo Warriors.
In June of 2015 I underwent my very first laparoscopic surgery for an ovarian cyst by a local gynaecologist in Canada. After this I went about my life with symptoms that directly relate to Endometriosis.
We would like to formally introduce our new journey- The Endometriosis Organization of Canada.
This organization focuses strictly on education. Furthermore, we are currently in the process of officially receiving our official government status as a charity, and will keep you up-to-date as that process continues.
A little more about us: My mother suffers from diagnosed Adenomyiosis, while I am diagnosed Adenomyiosis & Endometriosis. Our journies have been long, painful, and fully of new-found wisdom. We became very frustrated by the lack of scientific / helpful information in Canada and decided to take a stand
We are NORMAL human beings and not medical professional, so we will not be providing medical advice OR medical recommendations. Resultantly we are learning day-by-day as you also are and simply sharing proven facts / education surrounding the disease, and dialogue from our own personal journeys!
Based on our experiences, we believe that education surrounding endometriosis and "women's" health is of utmost importance within Canada. As a result, we created our three values Awareness, Advocacy & Accessibility to support our mission. Through proper education, spearheaded by our organization and allies, Canadian society will learn to listen and adapt to the needs of individuals with "women's" health related illnesses.
Please read below to meet our team & see details about our values
The Endo Educational Organization of Canada is committed to creating and maintaining an inclusive and diverse environment, where all bodies, abilities, genders, ages, religions, sexual orientations, and races are welcome, safe, educated and supported.
Throughout our website we often refer to "women's" health in quotations. It is imperative that the public understands that issues that relate to the medical category of women's health do not effect solely those assigned female at birth. In fact, all illnesses, diseases and circumstances surrounding women's health actively effect a diverse population of indivdiuals including those who identify as trans men, trans women, non-binary, two-spirited and intersex. We will continue to use quotations until the terminology is changed in our medical system to demonstrate a lack of inclusivity and relevance. 
AWARENESS THROUGH EDUCATION
The largest issue that Founders, Emma & Deborah experienced while navigating endometriosis treatment is a gap in factual education surrounding endometriosis in Canada. As a result of this insufficient education many branches of society have become negatively affected; notably patients (all ages & genders), medical professionals, educational systems, and general citizens. Patients like ourselves regularly articulate that it is rare for anyone, including medical professionals, to know about and understand endometriosis. Therefore, at the EEOC, we value awareness through factual education and ensure this is a priority within all our initiatives. This value causes us to stand apart by influencing a shift of Canadian's opinions and previous knowledge (or lack thereof) of endometriosis; the perfect foundation for societal change. In particular, awareness through education allows Canadian patients and general society (citizens, medical practitioners, and governing institutions) to become informed about endometriosis, improving the experiences of endometriosis patients.
We are stimulating AWARENESS through education.
ADVOCACY FOR REFORM
At the EEOC, we strongly believe that Canada needs to reform how endometriosis is addressed, treated and regulated within our society. Change is overdue surrounding endometriosis treatment; we need national, provincial and regional healthcare systems that work to effectively support endometriosis patients in Canada. Furthermore, our system must also change to support proper education and techniques for our Canadian medical communities (physicians, technicians, surgeons etc.) to effectively recognize, treat, and support endometriosis. At this moment the Canadian medical system is simply not equipped to deal with the systemic disease that is endometriosis. As such, we value advocacy for reform; a larger goal that must consider both patient's and practitioner's experiences and opinions to be effective. To change the delay to diagnosis, lack of qualified excision surgeons, lack of federally implemented vetting process for excision surgeons, misuse of pharmaceutical treatments, general lack of awareness, continued gaslighting and more we must advocate for reform concerning the regulations and laws that uphold inadequate treatment.
We are ADVOCATING for reform.
ACCESSIBILITY TO PROPER CARE
We recognize that endometriosis is an exhausting disease for patients, caregivers, families, and friends. Therefore, all of our initiatives are centred around accessibility both physically and mentally. For example, after seeing a major deficit in education throughout Canada, we chose to pursue in-person educational events that personally deliver factual information to citizen's local communities. Similarly, during the development of our official website we chose specific features to ensure world-renowned information was the most accessible possible. Accessibility to proper information is of utmost importance to us because proper information leads to proper care. All in all, patients and supporters must have accessibility to information about endometriosis and with these facts, they can make informed decisions during their health journey.
We are ensuring patient's ACCESSIBILITY with our decisions.
ENDOMETRIOSIS IS DEFINED AS THE "PRESENCE OF ENDOMETRIAL-LIKE TISSUE FOUND IN EXTRAUTERINE SITES
– AN IMPORTANT DISTINCTION–
THE ABERRANT PROCESSES INVOLVED IN ENDOMETRIOSIS GIVE RISE TO INFLAMMATION, DEVELOPMENT OF ENDOMETRIOMAS, FIBROSIS, FORMATION OF OF ADHESIONS, ORGAN DYSFUNCTION AND MORE. "
– CENTER FOR ENDOMETRIOSIS CARE